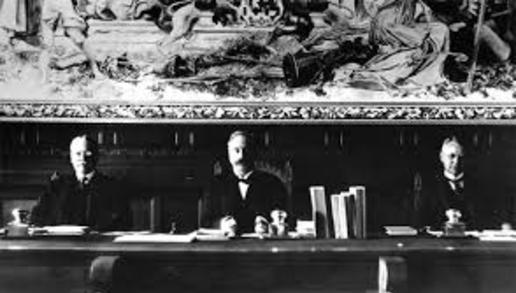 After a long road of doing research, collecting and compiling evidence, documents and legal precedence, a matter entitled " Demand for Administrative Accounting and Fiduciary Responsibility" was filed with the PCA on September 29, 2015 (see below) on behalf of four SI investors. The Respondents are Jungle Ventures, Limited dba SolidInvestment.com, Sam Colins,
Schroder Asset Management, Permira Holdings, Dr. Juergen-Peter Graf, HSBC, Dr. Thomas Aumueller, Barclays, RBS, Lloyds, Dexia, Fraser A.R. Richards aka Lord Fraser Milverton, Simon J. Church aka Simon Richards, Dr. Roman Poseck, Handelsbanken, and the Federal Republic of Germany. Official 'Notice of Arbitration' (see below) was sent to all
Respondents in December 2015. ALL Respondents defaulted.
A 'Request for Entry of Award' (see below) was filed February 24, 2016. Besides the request for a plethora of documentation, monetary requests were made for payment of Claimants accounts, an equal amount for global charitable outreach and reimbursement of all cost incurred.

We are still awaiting the official award.
Notice of Arbitration under Article 3 of the Permanent Court of Arbitration
NOTICE OF ARBITRATION UNDER ARTICLE 3
OF THE PERMANENT COURT OF ARBITRATION
________________________________________________

J.N.O., C.L.S,
J.E.D., and J.D.B.


Claimants,

V.

UNGLE VENTURES, LTD. (DBA) SOLIDINVESTMENT.COM,
SAM COLINS, SCHODERS ASSET MANAGEMENT, PERMIRA HOLDINGS, LTD, JUEGEN PETER GRAF,HSBC, THOMAS AUMUELLER, BARCLAYS, RBS, LLOYDS, DEXIA, FRASER A. R. RICHARDS aka FRASER MILVERTON, SIMON J. CHURCH aka SIMON RICHARDS, ROMAN POSECK, HANDELSBANKEN, the FEDERAL REPUBLIC OF GERMANY

Respondents.
________________________________________________

C.L.S.
XXXXX XXXXXXX XXXX XXX
XXXXX, XXXXXXXX XXXX
(XXX) XXX-XXXX
Attorney in Pro Se and
Representative for the Claimants

December 11, 2015

1. In accordance with the rules of the International Permanent Court of Arbitration in The Hague, The Netherlands, Claimants J.N.O., C.L.S., J.E.D., and J.D.B. hereby initiate recourse to arbitration under Article 3 "Notice of Arbitration."

A. DEMAND THAT THE DISPUTE BE REFERRED TO ARBITRATION

2. More than nine (9) years has elapsed since the Claimants legally made a claim to their funds from SolidInvestment.com. Exhausting all administrative, diplomatic and political remedies, the parties have not been able to come to any mutually agreed upon resolution. Therefore, pursuant to rule article 1, Claimants hereby demand that the dispute be referred to arbitration.

B. CONSENTS AND WAIVERS

3. Pursuant to the rules of The Permanent Court of Arbitration, Claimants hereby submit this issue to arbitration.

C. NAMES AND LOCATION OF PARTIES

4. Claimant/Investor: J.N.O.
XXXXX XXXX XXXXXXX

5. Claimant/Investor: C.L.S.
XXXXX XXXXXXX XXXXX

6. Claimant/Investor: J.E.D.

XXXXXXXX XXXX XXX XXXXXXXXX

7. Claimant/Investor: J.D.B.
XXXX XXXX XXXXX

8. Respondent: JUNGLE VENTURES, LTD., DOING BUSINESS AS (DBA) SOLIDINVESTMENT.COM
Belize City, Belize

9. Respondent: SAM COLINS
Manchester Manchester M21 8XW United Kingdom

10. Respondent: SCHODERS ASSET MANAGEMENT

London EC2V 7QA United Kingdom

11. Respondent: DR. JUEGEN PETER GRAF
76113 Karlsruhe Germany

12. Respondent: HSBC
London E14 5HQ United Kingdom

13. Respondent: DR. THOMAS AUMUELLER
65779 Kelkheim German

14. Respondent: BARCLAYS
London E14 5HP United Kingdom

15. Respondent: RBS (Royal Bank of Scotland)
Edinburgh EH2 2YB Scotland

16. Respondent: LLOYDS
London EC24 7HN United Kingdom

17. Respondent: DEXIA
Brussels 1050 Belgium

18. Respondent: FRASER A. R. RICHARDS aka FRASER MILVERTON

Marlborough Wiltshire SN8 1TL United Kingdom

19. Respondent: SIMON J. CHURCH aka SIMON RICHARDS
Chesterfield Derbyshire S40 2TN United Kingdom

20. Respondent: DR. ROMAN POSECK
60313 Frankfurt Germany

21. Respondent: HANDELSBANKEN
56-106 70 Stockholm Sweden

22. Respondent: PERMIRA HOLDINGS LTD
Guernsey GY1 6DJ United Kingdom
23. Respondent: Federal Republic of Germany

Berlin Germany

D. PLACE OF ARBITRATION

24. Permanent Court of Arbitration
Peace Palace
Carnegieplein 2
2517 KJ The Hague
The Netherlands
T:+31 70 302 4165
F:+31 70 302 4167


E. DISCRIPTION OF CLAIM

Factual Background

25. Jungle Ventures, Ltd dba SolidInvestment.com (hereafter referred to as "website"), CEO Sam Colins, was purchased as a subsidiary of a subsidiary of Permira Holdings LTD in or around 2004. During the entire tenure of the website, Schroders Asset Management owned over 80% of Permira Holdings LTD.

In 2007, a settlement agreement, in lieu of criminal charges, was obtained against Permira Holdings LTD and Schroders Asset Management from the Federal German Court, Criminal Panel 1, Dr. Jürgen-Peter Graf presiding. Dispensation of the agreement was then assigned to Dr. Thomas Aumüller, President and Presiding Judge, Civil Senate 26, Frankfurt am Main, German Court of Appeals.

The terms of the agreement stated that all investors would be paid their current balance plus one additional investment cycle at current contract rates. All payments to be completed within 90 days.

After initially agreeing to undertake paymaster duties, HSBC refused to commence payments. In 2008, Barclays was appointed Paymaster. With the assistance of RBS and Lloyds payments commenced. Between February 2008 and December 2009, an estimated $20 trillion was distributed in over 100,000 transactions.

June 24, 2009 illustrates an average day's transactions. The daily distribution cap was $60 billion. 360 "Investor Notices of Payment" were sent out, 120 assigned to each bank. RBS processed 105 wire transfers, the smallest $83 million and the largest $297 million.

In 2010, after some anomalies were discovered in the payout process, Dexia took over paymaster duties from Barclays. Dexia was also granted control of the database and appointed Fiduciary Trustee. Selective payments continued until July 2011, when all processing ceased.

Extensive research into the annual reports of Schroders Asset Management, Permira Holdings LTD, Barclays PLC, and Dexia SA show NO mention, even as a footnote, of the settlement agreement or contingent liability, yet $20 trillion has been distributed to date, and an estimated 35,000 accounts remain to be paid.

The only correlation that was ascertained by the research into dozens of public annual reports was a direct relationship between the number of glossy pictures and the lack of transparency. Permira Holding LTD not only greatly exceeds all others in pretty pictures, but has not even released its 2014 results as of the date of this notice.

The settlement agreement stipulated payments were to be made oldest depositor to newest. However, payment confirmations tell a very different story. Those with close affiliations to either Schroders or Permira were paid, while the majority of accounts believed to not have sufficient information or resources to threaten further action were ignored. The lack of any mention of the settlement agreement in their annual reports leads one to believe this maneuver was by design.

After further anomalies were detected, the 2011 UK court orders were obtained. Their intention was to move both governorship and enforcement to a single jurisdiction… the Federal Republic of Germany. The German judicial overseer remained Dr. Thomas Aumüller until his retirement and was replaced by Dr. Roman Poseck in early 2012. Fraser A.R. Richards aka Fraser Milverton and Simon J. Church aka Simon Richards were appointed Fiduciary Trustees and the escrowed funds were moved to HandelsBanken Austria.

As of this date NO FURTHER PAYMENTS HAVE BEEN MADE!

During this entire period, Mr. J.N.O. was attempting to obtain the documents necessary to forestall being criminally charged for matters related to his investment in the website. He was unsuccessful, and, in XXXX, was charged in the XXXXXX XXXXXXXXXX Case #XXX XX XXXX/XX/XX with crimes directly related to his website accounts. Without the documents proving a settlement agreement was in place, he was unable to mount a defense. In essence, one German court, that was duty bound to ensure all beneficiaries had proper notice, was allowing the fiduciary trustees to defy their administrative duties while allowing another German court to convict an innocent man.

In regards to Mr. O., the court documents from the 2007 criminal prosecution and settlement agreement would have been available to both Mr. O.'s defense counsel and prosecutors if the fiduciary trustees had been compelled to provide the appropriate documentation to all beneficiaries. But during his criminal hearings and subsequent conviction, they were somehow missed, overlooked, dismissed, or rebuffed.

NO DOCUMENTS RELATED TO THIS TRANSACTION WERE EVERY GIVEN TO ANY BENEFICIARY!

It is now believed that these same documents have disappeared, been misplaced, been removed from court databases, been placed in some fabled artificial jurisdiction, or been sealed by judicial error and are not available to the Claimants in this action.

Throughout this sordid affair, the claimant have made numerous attempts to receive documents that should have been given to all beneficiaries, namely the original settlement agreement, UK court orders and German Agreement to Facilitate Payments.

This amounts to sloppy, inefficient, and inferior record keeping on the part of the German judiciary, and The Federal Republic of Germany in general.

By not protecting these same records so Claimants would now have access to them to strengthen their case, and by failing as overseer to commence website fund distribution, these events represent social injustice, malfeasance, misfeasance, and an ongoing motive by the Federal Republic of Germany to miscarry justice, to play loose with the rules, and to damage the rights, health, and well-being of the Claimants.

Charges were brought against the website and its owners in a German court to force it to pay funds to its investors. The court ordered that the funds be placed in escrow accounts to be administered by court appointed fiduciaries. For the past nine (9) years, Claimants have attempted to arrive at a suitable solution to this impasse, but without success.

Therefore, Claimants hereby submit this issue to arbitration.

F. RELIEF SOUGHT

26. Claimants seek honest, upfront, forthright accounting and fiduciary procedures from Respondents in preparation for Claimants making accurate claims to funds in their accounts.

F. NUMBER AND APPOINTMENT OF ARBITRATORS

27. The number of arbitrators shall be three, each subject to review by Claimants.


G. STATEMENT OF CLAIM

28. A statement of claim will be filed at some future time by the appointed arbitrators in accordance with the rules.

H. JURISDICTION

29. All claimants submit to the jurisdiction of the Permanent Court of Arbitration.

30. All respondents are under the jurisdiction of the Permanent Court of Arbitration, as the countries where they personally reside, and/or the countries where the respondent companies or corporations are located, are all signatories to The Hague Convention.

I. RESPONSE TO NOTICE OF ARBITRATION

31. Within 30 days of the receipt of notice of arbitration, respondent(s) shall communicate to the claimant(s) and to the International Bureau a response to the notice of arbitration, which shall include:

(a) The name and contact details of each respondent,

(b) A response to the information set forth in the notice of arbitration, pursuant to article 3, paragraphs (c) to (g).

_________________________________
C.L.S.
XXXXX XXXXXXX XXXX XXX

XXXXX, XXXXXXXX XXXX
Attorney in Pro Se and
Representative for the Claimants